Custom Parking Signs
(4877)
Don't settle for a generic message. A
custom parking sign
is obeyed more often. Use your company name, reserve a personal spot, or add exact parking regulations.
• Heavy-duty materials are printed with 3M inks and films for guaranteed satisfaction.
• Reflective materials meet state and local regulations, and are required if your parking lot is accessible to the public.
• For more information, visit our - Custom Parking FAQs
Look for this Symbol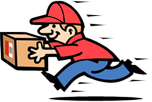 Ships Today
. Order within
00 hrs 00 mins
---
Free Form Custom Parking Signs
(4878)
Custom Parking Signs
(4907)
Frequently Asked Questions
Q.
What information can I add to a custom parking sign?
A.
Our custom parking sign templates let you add information such as a personalized message, company name, logo, and directions. You may also create a completely personalized parking sign by uploading your own design, which we will use to create your exclusive parking sign. There are no hidden costs, and we also provide free artwork assistance!
Q.
What if my custom parking sign arrives with a defect/design inconsistency?
A.
We take every measure to ensure your sign reaches you in perfect condition and matches your preferences to the hilt. However, if in case your sign reaches you in a less than satisfactory condition, please send us an email along with a photograph of the sign at [email protected] We will then get the sign replaced at no additional charge.
Q.
Will I get expert support to create a custom parking sign?
A.
Our user-friendly customization wizard makes creating a custom parking sign extremely easy and quick. Should you still need help with customization or have any specific requirements, you may reach out to our customer support team at 800 952 1457 or email [email protected], who will be happy to help.
Q.
What types of custom parking signs do you offer?
A.
Our range of custom parking signs includes a variety of mountable signs in different formats, designs, materials, and messages. These signs are available in varied shapes such as rectangle, square, diamond, and more. We also offer customizable floor stencils that you can use multiple times to create your parking message in different locations.

Opt for our custom ConeBoss signs that fit perfectly on standard traffic cones and can be moved as required. You may choose from our customizable designer parking sign templates to communicate your message with a hint of elegance.
Q.
I have a dynamic parking policy for my facility. Do you have a custom parking sign for me?
A.
We certainly do - explore our Custom Sign Blanks for parking, traffic, or any other need. These let you create completely custom messages on the sign shape and color of your choice. You may either write on the blank signs with a dry erase marker or use die-cut letters to create your custom text.
Q.
I need to add a text line and an arrow on the custom sign. What should I do?
A.
While placing the order, just leave your desired instructions in the box "Special Instructions for My Order". We meticulously go through each order and make sure your instructions are followed. Our highly skilled design team will send you the proof soon. Please note, we do not charge extra for artwork.
Q.
Before the order is finalized, can I see my custom parking sign proof to approve?
A.
Of course! You can do this by calling us at 800 952 1457 and placing a pending order without paying for it. You can pay after approving the proof.
Q.
How long do custom parking signs take to be delivered?
A.
Custom parking signs are made to order and released into production the business day after the proof is approved. Production takes about 3-5 business days, upon which the signs are shipped. Custom orders are usually delivered within 7-10 working days.
Customer Reviews