We are the leading suppliers of sign posts online. Browse our high-quality street sign posts ranging from 3 feet to 10 feet. Install signs with our most popular Green U-channel posts offering years of durability. Compare
prices and materials
to find your best option.
• We've segregated sign posts by their shapes — round, square, and U-channel posts.
• Try reflective post panels or delineators to draw attention. Our square posts let you attach signs on all sides, great for a busy 4-way stop.
• Do not miss our hardware and sign attachment accessories.
• For more information, visit our - Sign Posts FAQs
Look for this Symbol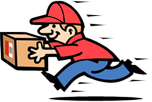 Ships Today
. Order within
00 hrs 00 mins
---
Sign Posts by Size
(49251)
Sign Posts by Style
(44312)
Sign Posts by Shape
(58072)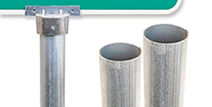 Great for street signs.
Timeless brackets & post caps.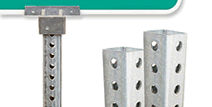 Most practical sign post system!
Square design for 4-sided signage.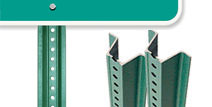 A wide range of heights & weights.
Municipal-quality, low prices.
Sign Posts Accessories
(60138)
Frequently Asked Questions
Q.
What is the difference between Baked Enamel and Galvanized sign posts?
A.
Baked enamel sign posts
are coated with an enamel finish that is baked at very high temperature and directly applied to the steel posts without any need for a primer. The green coating makes the posts strong and corrosion-resistant.
Galvanized steel posts
are protected by a rust-proof zinc barrier. The silver-finished galvanized posts are also resistant to bends and abrasions.
Q.
Why are 8-feet sign posts preferred over other sizes?
A.
8 feet sign posts
are our best-selling size.
Research
has shown that "signs are best placed at 78 inches (6.5 feet) to catch a person's eyes when directed upward and call attention to the safety identification from afar." Sign posts are installed 2 to 3 feet into the ground. When installed in cement, the depth is around 1-2 feet. Hence, 8 feet posts are ideal and most popular.
Q.
What is the material of these metal sign posts?
A.
Our
metal sign
posts are made of high quality steel. We know that steel can rust or corrode. Hence, these posts are treated either with baked enamel coating (check out all our green posts) or galvanized with a rust-proof zinc barrier (silver posts). Even if the posts are knicked or chipped, the zinc barrier keeps rust away. Signs are approved by Federal Highway Administration (FHWA) and the American Association of State Highway and Transportation Officials (AASHTO).
Q.
How long do metal sign posts last?
A.
All our steel sign posts carry an outdoor warranty of 10 years. The
U channel steel sign posts
are robust to be used for a long period in perfect condition. These posts have an average life expectancy of 40-60 years. U channel sign post is the most widely used sign post type because of its longevity. The steel sign posts are galvanized or baked enamel treated to extend service life.
Q.
Which is a better option for me - U-channel or Round sign posts?
A.
U channel posts are preferred owing to their light weight, tapered end, and wide shape. The design of a U-channel sign post is wide enough to support the mounted sign offering stability in strong winds. Many of our customers prefer U Channel posts because it's easy to mount multiple signs at any height using the holes drilled along the entire length of the post. U-channel posts have one tapered end that can be installed directly into the ground without requiring you to dig a hole first.
Round sign posts
can also be easily installed along with our brackets like Nob Hill, Crossing Street and Round Post and work well with traffic and parking signs
Q.
Is the sign mounting hardware included?
A.
All U-channel sign posts come with necessary mounting hardware you need to install and mount one sign i.e. 2 bolts (5/16" x 2"), 2 nuts, 2 metal lock washers and two plastic washers. For round posts, you will need to order sign brackets separately to attach signs.
Q.
Can I assemble and install the sign and post on my own?
A.
Yes you can. Take care that you bury the post sufficiently into the ground. Most sign posts are installed no more than 24" into the ground. Remember the larger the sign, the deeper it should go into the ground. A heavy sledge hammer is enough to tap lighter posts into the ground. For heavier signs, though, we recommend you to use a
Post Pounder/Post Driver
. It will prevent your back and save your time. Use a step ladder or back of a truck to install very tall posts.
Q.
Are there any extra shipping charges for heavy sign posts?
A.
We offer free shipping on all orders above $9.95 to the lower 48 USA states. Most sign posts are included in the free shipping offer. However, very large signs or certain very heavy items are excluded from this scheme. Please contact our
customer service
to know about specific products. Heavy or oversized products can be shipped only to the contiguous forty-eight (48) states and they cannot be shipped to APO/FPO addresses or internationally.