U-Channel Sign Posts
(34002)
Find all the
U-channel sign posts
you need in one convenient location, from 4' to 8'. Below, posts are divided by material and weight.
• Galvanized posts are protected by a rustproof zinc barrier. U-channel posts are built to last for years.
• Perfect for any of your intersections.
• Buy posts individually or as a kit, which includes hardware.
Look for this Symbol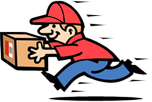 Ships Today
. Order within
00 hrs 00 mins
---
Other Types of Sign Posts
(49089)
Frequently Asked Questions
Q.
What are the benefits of U-channel sign posts?
A.
One of the main benefits of U-channel sign posts is that installation of signs can be done at any height because of perforated holes along the entire length of the post. Unlike round and square posts, there is no need to dig a hole in the ground first to mount U-channel posts. The design of a U channel post is such that it withstands rough use and weathering. Also these are more affordable post options.
Q.
What does a U-Channel Sign Post Kit contain?
A.
Our U channel sign post kit contains everything you need to mount a sign i.e. a U-Channel Post, two bolts (5/16" x 2"), two nuts, two metal lock washers and two plastic washers. All sized posts (3, 4, 5, 6, 7, and 8 feet) are offered individually as well as in kits. Choosing a kit over individual posts saves you a lot of time and money.
Q.
How can I attach two small U-Channel posts together?
A.
Two posts can easily be joined through bolts and nuts using the 3/8 inch pre-drilled holes located at every 1 inch on the center of the U-channel post. All you have to do is lay the second post on the ground near to the first post that is buried in the ground. Align the posts so that they will nest. Thread one bolt through both posts. Then swing up the second post vertically and, on the top of the overlap, tighten the second bolt.
Q.
What is the difference between Economy and Municipal Quality U channel posts?
A.
Economy and municipal quality U-channel posts mostly differ in their weights. Ideal for private parking lots and indoors, economy posts weigh 1.12 lbs per foot while municipal quality sign posts weigh 2 lbs per foot. Municipal posts are 3-1/16" wide whereas economy posts are a little narrower (2-1/4"). Municipal quality posts are heavy duty and are a standard at municipalities. These are ideal for traffic signs, signs measuring 18" x 24" and larger.
Q.
How much U-Channel post needs to be buried inside the ground?
A.
The amount of sign post that should be buried inside depends on the length of the post. For example, a 4-foot sign post should be inserted 1.5 feet inside the ground, while an 8 to 10-foot post should be set 3.5 feet under the ground. Ideally, one-third of the post should be fixed below the ground.
Q.
What is the average life of a Galvanized U-channel post?
A.
The galvanized finish offers more resistance against rust as compared to baked enamel coating. Galvanized posts are a better option in terms of durability. A typical galvanized U channel sign post lasts at least 10 years outdoors. Galvanized U channel posts are made of steel and protected by a rustproof zinc barrier. Even when the sign posts are nicked or chipped, they do not rust and last for years.
Q.
I want to install a 12" x 18" No Parking sign along with a supplemental 6" x 12" sign? Which height should I consider for my U channel post?
A.
18" + 6" = 24 inches. So, you have a total sign height of 24 inches or let's say 2 feet. You can combine two 6 feet sign posts to give you 7 feet height between the bottom of supplemental sign and the ground.
An 8 feet post will give you about 5 feet of distance between the ground and the bottom of a parking sign because at least 3 feet goes under the ground.
Q.
Do you ship U-channel posts outside of the USA?
A.
While most of our products can be shipped internationally, certain heavy and oversized items may not. Such items can only be shipped to the continental U.S. and/or via standard delivery, depending on the item. See our terms for more details on shipping. Also, we do not accept international returns. Our customer service agents can help with shipping details for any specific U-channel post you want to order.
Q.
What sizes do you offer for U-Channel Posts?
A.
U-Channel posts for mounting signs are available in multiple sizes, ranging from 3 feet to 8 feet (3 feet, 4 feet, 5 feet, 6 feet, 7 feet, and 8 feet). Some sizes are available in lighter variety (Economy) while some are available as heavy duty (Municipal). Each post has pre-drilled holes measuring 3/8 inch in diameter, spaced out 1 inch apart in the center. We also offer Breakaway Sign Posts that can be easily replaced and the base reused after an accident.
Q.
How to decide the size of the post I should buy?
A.
The selection of size of the post is based on various factors, but primarily on the size of sign being installed and the type of roadway the sign is meant for. 8 feet posts are most popular and used in parking lots, schools, and malls. 6 feet posts, however are easier to install and are prefered for residential or for off-street installations.
Customer Reviews