Winter is coming. Watch out for extreme weather hazards, including freezing temperatures, blizzards, and slippery surfaces. Our
ice alert signs
warn employees, customers, and visitors of potential ice hazards. Ideal for parking lots.
• Rugged, reliable, and easy to maintain. Our color-changing indicator doesn't use electricity.
• The indicator changes color from silver to blue when the temperature drops to freezing.
• Aluminum signs are available in 3 reflective films. Significantly improves nighttime visibility.
• For more information, visit our - Ice Alert FAQs
Look for this Symbol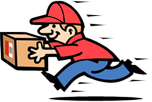 Ships Today
. Order within
00 hrs 00 mins
---
More Ice and Snow Warning Signs
(71298)
Frequently Asked Questions
Q.
Will your temperature-sensitive ice alert indicator withstand sub-zero temperatures?
A.
Made from medical-grade polycarbonate, the same material used to manufacture bullet-proof glass, the ice alert indicator is designed to withstand below-freezing temperatures without the indicator's plastic shell cracking or breaking.
Additionally, the liquid-welded unit is 100% waterproof and protected from any sort of climate from forming on the inside of the plastic shell, thereby ensuring that the indicator wheel is always perfectly visible.
Q.
Who can use your IceAlert roadway reflectors?
A.
Our IceAlert Roadway Reflectors are designed to be placed on delineator posts in series to alert motorists of oncoming freezing road conditions and prevent accidents. These are not recommended for use by commercial properties but by state, city, and county governments for roadway use.
Q.
How durable are your ice alert indicators and reflectors in tough weather?
A.
Our ice alert indicators and reflectors are designed to last for about 4-6 years and can last even longer if placed in a sheltered area i.e. safe from direct sunlight and other weather elements. These are covered by a two-year warranty.
Q.
How can I ensure people understand how the ice alert indicator works?
A.
While the sign itself is self-explanatory, to further ensure that everyone understands the meaning, you can add the supplemental ice alert signs that are specifically designed to convey the functionality of the indicators and reflectors. These signs tell people that icy/freezing conditions prevail when the indicators/reflectors are blue.
Q.
Why are ice alert signs important?
A.
Ice alert signs are crucial to keeping workers, employees, customers, and visitors safe by communicating freezing conditions, icy pathways/driveways, and steps, and wet/slippery surfaces. These alert people and help in preventing winter weather-related accidents. These effective signage are crucial in preventing many personal injuries due to slips and falls as a result of ice.
Q.
Will your ice warning signs be visible in dark/foggy conditions?
A.
We offer ice warning signs in three variations of reflectivity - engineer-grade, hi-intensity, and diamond grade - each promising better reflectivity than the prior. These reflective films ensure the signs are visible in the dark and in other low visibility conditions.
Customer Reviews