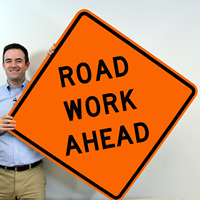 Construction or repairs performed along the roadway can be hazardous for construction workers and drivers alike. Factors such as loose gravel, heavy machinery, blasters, high water, soft shoulders, uneven pavements, smoke, freshly oiled roads and more can cause accidents leading to injuries and fatalities among moving traffic. All this is in addition to the impact that roadside work can have on the smooth flow of traffic, increasing the risk of in-drive accidents.
To ensure that motorists and pedestrians are protected as much as possible from the hazards of road work sites, Road Work Signs are installed to forewarn road users of conditions along the way. These signs advise drivers and pedestrians to practice caution, and may also serve to direct traffic to an alternate route. Temporary in nature, these signs are used only up until road work is completed.
MUTCD requires the use of diamond-shaped signs with a black legend and orange background to designate construction, maintenance, and utility work zones. As a rule, Road Work Signs must be located on the right side of the roadway. Usually, the first advance warning used is Road Work Ahead or Utility Work Ahead. Towards the end of a work zone, signs such as 'End Road Work' or 'End Utility Work' are commonly seen.
When are Road Work Signs used?
Below are just a few instances in which the installation Road Work Signs are required-
1.    Work Performed On The Roadside (Outside Shoulder)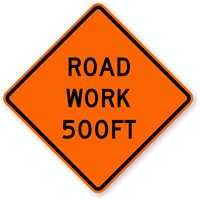 There is no need for traffic control when construction work is executed outside the roadway (that is, along the road but beyond its shoulder). However, in cases where construction vehicles are parked on the shoulder, when motor vehicles access the work site through the highway, or when any equipment needs to be moved across the roadway, a single sign reading "Road Work Ahead," or "Road Work 'X' FT," or "Road Work 'X' Miles" is used.
When vehicles use the road's shoulder to pass through the construction site, a sign that says "Shoulder Work" is used. Mowing operations must be accompanied by a "Mowing Ahead" sign, which must be installed every 2 miles for projects that extend over a distance exceeding 2 miles.  A supplementary plate with the "Next X miles" may be positioned below the initial warning sign.
2.    Work Performed On Shoulders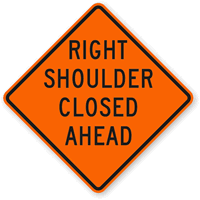 A warning sign is necessary to protect workers and alert drivers when work is being performed on the highway shoulder. A single Shoulder Work Sign is enough unless paved shoulders of 8 ft or more are closed on expressways and highways, in which case additional warning signs are required to alert traffic. A general warning sign reading "Road Work Ahead," followed by the more specific "Left Shoulder Closed Ahead" or 'Right Shoulder Closed Ahead" signs, is used here. An additional plate with "Next 'X' Miles" listed is positioned below the Shoulder Closed Sign when the end of the shoulder closure stretches beyond a distance visible to motorists.
When the shoulder is not in use but the work going on there has impacted its condition, a sign such as "Low Shoulder Sign" or "Soft Shoulder Sign" is used. The sign should be placed at every 1-mile interval when the condition spreads over a distance greater than a mile. A supplementary plate as mentioned above may be used in this case as well.
3.Closed Lanes on Multi-Lane Roads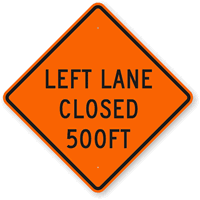 In cases where a lane is closed on a multi-lane road, advance warnings such as 'Left Lane Closed Ahead' or "Road Work Ahead Right" is used. The sign is generally accompanied with the distance (in feet or miles) for which the lane is closed.
What are the types of Road Work Signs used?
Some of the Road Work Signs that may appear along work sites are:
Road (Street) Closed Sign – This type of sign is installed where the road is closed to all traffic. Only authorized vehicles and contractors' equipment can pass through it. This sign may be accompanied by a "Detour Sign" to point oncoming traffic toward an alternate route. The size of the sign should be 48 inches by 30 inches. A sign that says, "Bridge Out" or "Bridge Closed" can be used in place of a Road Closed Sign wherever applicable. A Road Closed Sign should not be used where the road is closed at some distance beyond the sign.
Local Traffic Only Sign – This sign is used when passing traffic must eventually detour to avoid a closed road ahead, but where it can move up to the point of road closure. The sign is generally accompanied with a message like "X Miles Ahead – Local Traffic Only" to give drivers an idea of the length of road available before a detour is required.  Occasionally, "X Miles Ahead" has underneath it an explanatory note like "Road (Street) Closed to Thru Traffic."
 Road (Street) Work Sign – This sign is placed in advance of the work site or detour, and used to warn oncoming traffic of road restrictions and obstructions. The legend "Road (Street) Work 'X' Ft" or "Road (Street) Work 'X' Mile" is used in such signs.
Detour Sign – This sign is used in advance of the actual location of detour. A Detour Sign directs traffic on to another highway, which will serve as the temporary traffic control zone. A Detour Sign is normally accompanied with distance in feet or miles. As such, the legend on the sign reads, "Detour 'X' Ft" or "Detour 'X' Miles."
One-Lane Road Sign – This sign is used in cases of temporarily merged lanes, and is supplemented by another with distance in feet or miles. This second one may say "One Lane Road 'X' Feet" or "One Lane Road 'X' Miles." A One-Lane Road Sign can be used with other warning signs where necessary.
In cases where the changes to a lane are visible only from one side or traffic direction, or when traffic is such that it moves simultaneously at both ends frequently, flagging procedures or control may be used.
Flagger Sign – A Flagger Sign may be used to notify traffic of a flagger (that is, a person along the road holding a flag) ahead. It is placed before the point where the flagger is actually stationed, and accompanied by a supplemental plate with the flagger's exact location. This sign can also be used with additional warning signs and legends like "Be Prepared To Stop."
The word "Flagger" with a note on his/her exact distance may be used in place of a Flagger Symbol Sign. When the flagger is not stationed at his/her place, the sign is turned to face away from the oncoming traffic.
Two-Way Traffic Sign – This sign is used when one side of a divided highway is closed for traffic. A Two-Way Traffic Sign is placed at the beginning of the closure and at appropriate intervals. The sign serves as a caution to remind motorists that the half highway on which they're driving is functioning as a divided highway with opposing traffic.
Workers Sign – This sign is used to notify drivers of workers near or close to the road.The word "Workers" or a Worker's symbol may be used.
Road Machinery Sign – This sign is used to alert traffic that heavy machinery or equipment is being used in or next to the road.
– V. Makharia
Category: Miscellaneous