Crime is common when it comes to parking lots. A large majority of crimes that happen at retail stores or office buildings happen in the parking lot. Vast, unrestricted areas and desolate spaces are the prime contributing factors to these ever increasing criminal activities. Theft, vandalism, drug-peddling and accidents are some of the most common crimes in relation to parking lots.
Termed by many as crime magnets, the design of a parking lot affects the rate of crime, positively or negatively. Parking lots come in many structures from multi-level arrangement to huge parking areas to the flat lots. Poor visibility because of walls, pillars and elevation changes make a parking lot insecure. Flat parking lots offer great escape routes to the car thieves.
Imperative, as it becomes, keeping a track of who is entering or exiting from your parking lot is an important part of facility safety. Visibility of traffic at entry and exit points makes a huge difference to the safety of any parking lot. If the entry and exit are in clear view of the security guards and cameras, it becomes much easier to control the movement of suspicious or unauthorized people.
Undiverted attention towards the security of parking lots is essential. Some ways to ensure a safe parking area are –

Installation of CCTV security cameras:
A parking lot can be a safe place if a CCTV camera is installed in such a way that it can record the people entering and exiting from your parking lot. Also, they are a handy alternative to keep a watch on secluded places as human presence is not possible at every corner of the vast space. A security camera system is perfect for parking lots for many reasons. A CCTV security camera can be used as evidence in case of accidents and thefts. It can monitor the lot and can alert authorities if any suspicious activity is happening in the parking lot. Make sure that the camera covers your parking lot from all angles. Security cameras have t o be strategically placed for maximum coverage.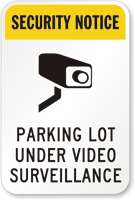 Lighting:
Proper lighting substantially increases the effectiveness of security guards and CCTV security cameras. Well lighted spaces work as a deterrent for individuals who are looking for an opportunity to commit crime. Moreover, vehicle owners feel much safer to park in a well-lighted and highly visible location.
Use of Parking Lot Signs:
Display your parking area with bold and eye-catching parking lot signs. Most useful signs in parking lot are Speed Limit Signs, Speed Bump Signs, Stop Signs, Entry Exit Signs, Yield signs and other Parking Security Signs; they warn and guide the drivers conveniently.
Parking permits:
Another great way to manage the parking lot is with parking permits. Hanging parking permit will help in keeping a track of every vehicle. Security can easily spot a vehicle when a permit is hung on a vehicle's rear-view mirror.
Controlling Speed:
Reckless driving and high speeds can cause accidents at the drop of hat. An easy way to reduce speed in the parking lot is to add speed bumps at the entrance and exit points. Speed bump signs should be applied at suitable places to alert the drivers. Accidents will be avoided if the speed of the vehicles is under control.
One can do a lot to improve their parking lot's security by taking precautions and always being aware of what is happening around.
Category: Parking Tech