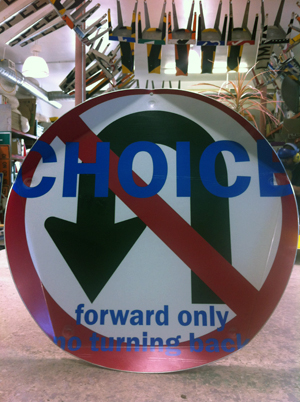 Messages such as "Forward Only: No Turning Back" are powerful motivators for change. Online sign distributor MyParkingSign.com collaborated with acclaimed New England artist Boris Bally to design and donate 29 signs for a major fundraiser. Bally is known for turning products such as recycled signs into usable and attractive art. The event was held on November 5th for Planned Parenthood of Southern New England (PPSNE) in New Haven, Connecticut.
MyParkingSign.com specializes in custom signs and can turn almost any custom artwork into a sign. Initially, the retailer provided 24'' x 24''standard No U-Turn Signs to Bally. Thanks to the store's easy-to-use customization wizards, the signs were created with the words "Choice" and "Forward Only: No Turning Back" on them as well. These are calls to not reverse pro-choice laws.
The event was held at Bally's studio in Providence, Rhode Island. The task fell upon the artist to convert these signs into covetable and socially conscious keepsakes. Bally is famous for taking items such as recycled street signs and making them into installations, furniture, home accessories, flatware, holloware, and other items. For example, on his site he sells wedding ring boxes made from reused traffic signs.
Pictures display what the signs looked like before they were turned into artwork. Bally turned the aluminum signs into pentaplatters, or oversized platters with 5 corners. These platters can be used as wall art, interior décor accessories, and even as food platters. Thanks to the bright, bold colors and fonts, these signs definitely stand out and promote the message of making a difference.
"The trays are beautiful and went like hotcakes," said the Director of Major Gifts at PPSNE. The new signs raised over $2000. MyParkingSign continually supports 501(c)(3) non-profit organizations and was thrilled to have the opportunity to help out.
Category: News